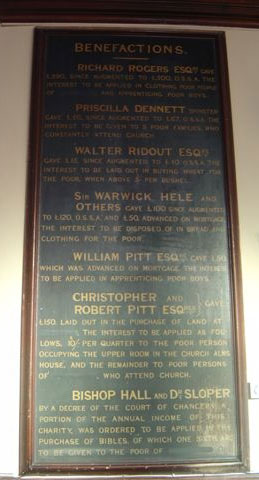 BENEFACTIONS
RICHARD ROGERS ESQ gave £290, since augmented to £500, O.S.S.A. The interest to be applied in clothing poor people of Blandford and apprenticing poor boys.
_ _ _ _ _ _ _ _
PRISCILLA DENNET spinster gave £50, since augmented to £67 O.S.S.A. The interest to be given to 3 poor families who constantly attend church.
_ _ _ _ _ _ _ _
WALTER RIDOUT ESQ gave £15, since augmented to £40 O.S.S.A. The interest to be laid out in buying wheat for the poor, when above 5 per bushel.
_ _ _ _ _ _ _ _
SIR WARWICK HELE & others gave £100, since augmented to £120, O.S.S.A. and £50 advanced on mortgage. The interest to be disposed of in bread and clothing for the poor.
_ _ _ _ _ _ _ _
WILLIAM PITT ESQ gave £50 which was advanced on mortgage, the interest to be applied in apprenticing poor boys.
_ _ _ _ _ _ _ _
CHRISTOPHER & ROBERT PITT ESQ'S gave £150 laid out in the purchase of land at Blandford, the interest to be applied as follows' 10 shillings per quarter to the poor person 'occupying the upper' room in the church Alms House and the remainder to poor persons of Blandford, who attend church.
_ _ _ _ _ _ _ _
BISHOP HALL & DR SLOPER by a decree of the court of chancery a portion of the annual income of this charity, was ordered to be applied in the purchase of bibles, of which one sixth are to be given to the poor of Blandford.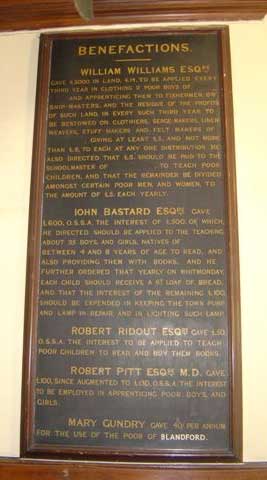 BENEFACTIONS
WILLIAM WILLIAMS ESQ gave £3000 in land, £14 to be applied every third year in clothing 2 poor boys of Blandford and apprenticing them to fishermen, or ship-masters, and the residue of the profits of such land, in every such third year to be bestowed on clothiers, serge-makers, linen weavers, stuff-makers and felt makers of Blandford, giving at least £5, and not more than £8 to each at any one distribution. He also directed that £5 should be paid to the schoolmaster of Blandford, to teach poor children, and that the remainder be divided amongst certain poor men, and women, to the amount of £5 each yearly.
IOHN BASTARD ESQ gave £6, OSSA the interest of £500 of which, he directed should be applied to the teaching of about 35 boys and girls, natives of Blandford between 4 & 8 years of age to read, and also providing them with books; and he further ordered that yearly on Whit Monday, each child should receive a 6d loaf of bread, and that the interest of the remaining £100, should be expended in keeping the town pump and lamp in repair, and in lighting such lamp.
ROBERT RIDOUT ESQ gave £50, O.S.S.A. the interest to be applied to teach poor children to read, and buy them books.
ROBERT PITT ESQ M.D. gave £100 since augmented to £130 OSSA. The interest to be employed in apprenticing poor boys and girls.
MARY GRUNDY gave 40 shillings per annum for the use of the poor of Blandford.