We gradually hope to add more photographs to this page. If you have any contributions, church interiors, monumental stones, village views, landscapes, old photographs of residents, etc. they would be welcomed.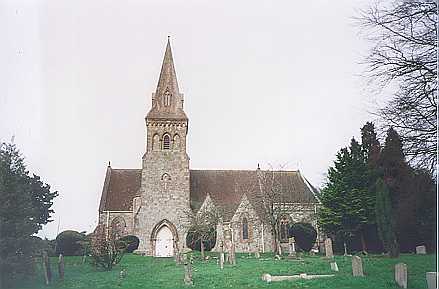 Left. Another view of the new church as it is today. This photograph courtesy of Carol Few ©, title page photograph © Richard Derrick who has more church photographs at his web site
Below: An old photograph of the remains of the earlier church.
Below Left. The remaining tower of the old church as it stands today. Carol Few ©
Above: A photograph along the nave towards the chancel and a photograph of the carved wooden pulpit. Carol Few ©
The photograph below shows Compton Abbas circa 1920, Mr Ellingham is standing outside his village shop, now closed down.