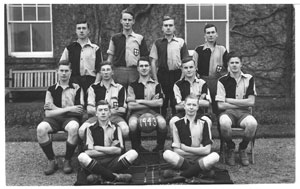 Shaftesbury Grammar School Football Team 1943
Back Row from left to right
Tom Wormald (lived in Bimport Street)
H. R. Jowett (Boarder at school)
Cedric Freer
B. J. White (Boarder at school)
Middle Row
Jim Foot
Barney Adams (Boarder)
Eric Coles (Ivy Cross)
A. N. Marshall (Boarder)
Derek Pike
Front Row
Pat Merritt
Michael (Mick) Williams (Parsons Pool)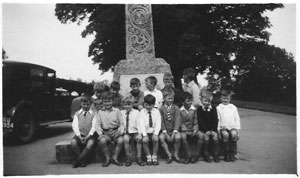 Shaftesbury Primary School 1932
Back row from left to right.
Cecil Glaze
John Pickford
?? Gray
George Munday
?? ??
?? ??
Front Row
Peter Alum
Cedric Freer
Stephen Rutter
Terrence Devlin
Morley Simms
Raymond Stretch
Michael Williams
?? Imber (maybe)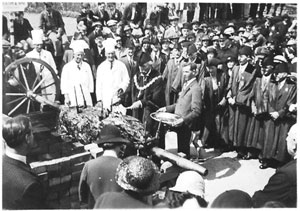 The ox roast believed to have been held at the recreation ground, Barton
Hill, Shaftesbury to celebrate the coronation of King George V1 and Queen
Elizabeth in 1937. The Lord Mayor may have been William Borley, The
Inspector of Police in the back ground was Inspector Churchill.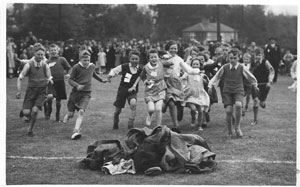 Sports Day - Left to right.
First three boys front row Morley Simms,
Stephen Rutter, Peter Alum.
Next three girls, ?? ??,?? ??, ?? Burr.
Next boy Cedric Freer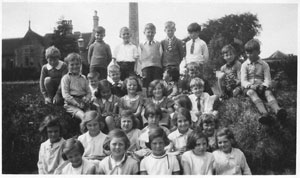 Shaftesbury Primary School 1932

Left to right Back Row boys. John Pickford, George Munday, Peter Alum, Terrence Devlin
Boys sitting. Cecil glaze, Cedric Freer, Michael Williams, ?? ??, ?? ??, James Gray, ?? ??
Boy sitting with girls. Stephen Rutter
Back Row girls, ?? ??, Helen Hall, Audrey Pitman
Girl sat in front of Stephen Rutter. ?? ??
Girl in 2nd row from front. ?? ??, ?? ??, Muriel ??, ?? ??, Brenda Rideout, ?? ??
Front Row, ?? ?? ?? Mayo ?, ?? ??, ?? ??, Joan Kimber