Steeple
STEEPLE ROLL OF HONOUR
1914-1919
REMEMBER WITH THANKSGIVING
THE VICTORY & THE GOOD AND
FAITHFUL MEN WHO RETURNED
NOT AGAIN. THEIR NAMES ARE
HERE RECORDED TO BE HONOURED
FOR EVERMORE:
Laurence Frank BURT 1/4 Dorset.
Aged 18
Bernard CHILCOTT 250th Siege Batt. R.G.A.
Aged 31
George Gilbert COOPER 1/4 Oxfd & Bucks L.I.
Aged 24
Henry Charles FORD 10th Batt. Canadians.
Aged 28
Frank GOULD 1st Dorset.
Aged 41
Stephen Frank LILLINGTON 3rd Grenadier Gds.
Aged 19
LAUS DEO.    R.I.P.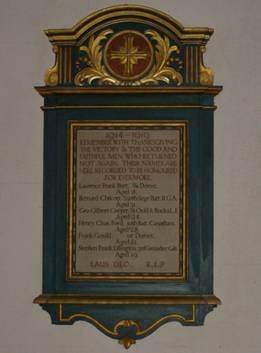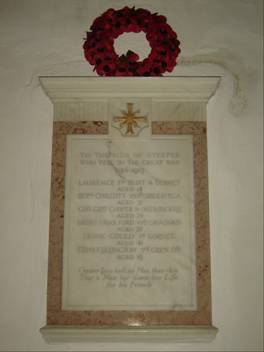 Memorial in Steeple Parish Church          Memorial at Creech Chapel of Ease
Greater Love hath no Man that this
That a Man lay down his life for his Friends