Stratton
Extract from 'The Old Stone Crosses of Dorset' by Alfred POPE 1906, pages 120-122.

The complete volume can be viewed online at http://www.archive.org/stream/oldstonecrosses00popegoog#page/n10/mode/2up

A fine old late fourteenth-century cross (restored) stands west of the north porch of the church. It is of Ham Hill stone, and consists of two square steps, a socket, and an octagonal shaft, surmounted by a Latin cross, both of which are modern. The basement step is benched with a fine drip moulding, with a fillet, and has a bold plinth, the greater portion of which is buried in the ground. It measures seven feet three inches square, and is eighteen inches deep to the edge of the plinth. The second step is five feet five inches square and nine inches deep. The socket is very massive and octagonal in its upper bed, with bold convex broaches. It measures three feet six inches square at the base, by one foot eight inches deep. The shaft is probably shorter and less massive than the original, and it has been suggested that the head of the original cross may be seen on the top of the gable at the east end of the nave. The restoration was carried out by subscription (to which Miss ASHLEY was a large contributor), in 1895, from designs prepared by Mr. G. R. CRICKMAY, the then diocesan architect and surveyor, from whose plans the church also (except the tower) was rebuilt a few years previously. A paper by the writer, on the Stratton church and cross, will be found in the "Proceedings of the Dorset Natural History and Antiquarian Field Club," vol. xvi, p. 1, 1895.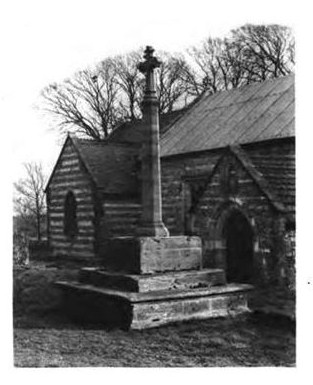 On Grimstone Down, which is in the parish of Stratton although part of the ancient manor of Grimstone, to the north of the Crossways leading to Cerne Abbas and Charminster, known as "Jackman's" Cross, is the socket of a cross of Portland and Ridgway stone two feet two inches square by twelve deep, with a mortise eleven inches by eight inches, into which formerly fitted a cross of wood. The upper hed [sic] of the socket is bevelled round the edge, and on one side is a cup-shaped cavity which might have been for the reception of alms. There is a tradition that a man named Jackman was hanged on this cross early in the eighteenth century for sheep-stealing, but the writer has searched through the Court Rolls which are in his possession as lord of the manor, and date back to 1640, and is unable to find any confirmation of this tradition. In 1645 the manor belonged to the Prebend of Salisbury, and in earlier times to the Abbots of Milton. The plate is from a photograph by Evans, Dorchester.