Corfe Mullen
Names on Corfe Mullen War Memorial
Transcribed by Angela Williams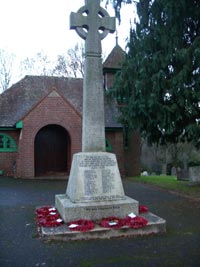 TO THE GLORY OF GOD AND IN PERPETUAL MEMORY OF THESE BRAVE MEN
OF THIS PARISH WHO GAVE THEIR LIVES IN THE GREAT WAR FOR KING AND
COUNTRY, RIGHT AND LIBERTY


1914 – 1918

ARNOLD S.L.
BARTLETT F.A.
BURDEN A
CASSIDY C Sen.
CASSIDY C. Jun.
CHAFFEY E.
ELLIS P
ELSWORTH H
FIANDER F
GOUGE W.H.G.
HOARE W.C.
HOARE E.W.
HODDINOTT S.C.
HUMPHRIES G.
KEEPING E.H.
KENT E.F.

KETTLE W
LLOYD R.C.
MAIDMENT J
MITCHELL H.E.
PARMITER A
PYPER J.W.A.
ROTHWELL J
SHEPHERD W.J.
SMITH E.J.
SPECK G.H.
STEVENS A.G.
SUMPTION S
SUMPTION H.G.
TALBOT F
WHITE G


Greater love hath no man than this, that a man lay down his life for his friends
WE WILL REMEMBER THEM

ROLL OF HONOUR
Those of the parish who gave their lives for their country in the World War
1939 – 1945

ARNOLD G
COX G
DALTON A
FOOT C
FULLER C
HARTNELL A.E.
HECKFORD N
HOPKINS W
JEWER S
JORDON V

LOWMAN C
MERCER A
MURPHY R
PLANTARD J
RIGGS W
SHEPPARD E
SIBLEY A
TAIT S
WADHAM W
DARBY P


Also
BEST J HEATH E HUSTINGS T BAILEY A.W.J.