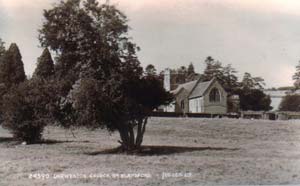 St Nicholas Church from an old postcard
Durweston is a parish 2 miles north of Blandford on the main road to Sturminster Newton, though much of the village lies to the west of the road. The River Stour is crossed by a bridge of three arches just to the east of the village. Much of the village was part of the Portman Estates whose family home lay nearby in Bryanston (now a public school).
The parish church of St Nicholas has a tower which dates to around the 14th century, the rest of the church seems to be in keeping with this age but was in fact a skillful restoration by P. C. Hardwick in 1846. The registers date from 1598.