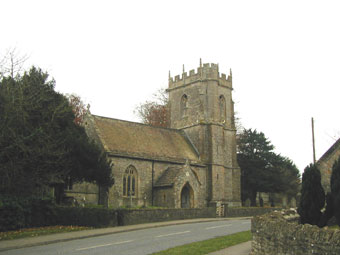 Bishop's Caundle is a parish in the hundred, union, and division of Sherborne, about 5 miles South-east by east from Sherborne, and 6 miles South-west from Sturminster Newton. The origin of the name "Caundle" is unclear, though it has been suggested to be of Celtic origin, and was formerly the name of the range of low hills that lies mainly to the north of the village.

The church is an ancient edifice with tower, containing four bells. The dedication of the church is unknown, being sometimes incorrectly ascribed to Sts. Peter and Paul. Much of the main body of the church dates from the 14th century, though the tower and other features are from the 15th.

In 1861 the population, including the tything of Caundle Wake and the hamlet of Bishopsdown, was 371, and consisted 1,397 acres.