| | | |
| --- | --- | --- |
| | Milton Abbas | |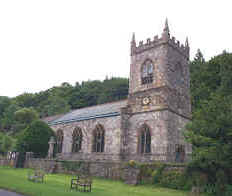 © Chris Rumbold, 2002
Milton Abbas is a parish and village 7 miles south west from Blandford and 11 miles north east from Dorchester. It is sometimes considered the first planned settlement in England as it was designed in the 18th century when the market town of Milton (or Middleton) was cleared by the local landowner, Joseph Damer. The entire town was demolished and many of the residents were rehoused in the new settlement at Milton Abbas.

Going in a clockwise direction from the north is is adjacent to the following parishes:- Ibberton, Winterborne Houghton, Winterborne Clenstone, Winterborne Whitechurch, Milborne St Andrew, Dewlish, Cheselbourne, Hilton, Stoke Wake and Tarrant Launceston.
The parish has a long monastic history. Milton Abbey as it now stands was built in 1771 on the site of the old Abbey house by the first Earl of Dorchester. The parish church of St James was built by the Earl in 1786. The church registers date from 1650. The parish includes the Grade II listed Delcombe Manor, north-west of the village, which dates from around 1750, which formed part of the Milton Estate.

In 1882 a part of the parish known as Lypscombe was amalgamated with Chesilbourne and Holworth was added to Overmoigne, part of Winterborne Whitchurch was added to Milton Abbas. The soil is chalk. The area is 2420 acres. A parish school was built on 1840.
The population in 1861 was 1014; 1871, 942; 1891, 728; 756 in 1931 and 750 in 1991.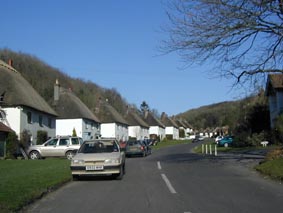 The new Online Parish Clerk (OPC) for Milton Abbas is Jean Trevett
---
On-line data
Census
1841, 1851, 1861, 1871, 1881, 1891, 1901
Parish Registers
Baptisms 1651-1730 1731-1812 1813-1880 [PR] [Kim Parker]
Marriages 1559-1812 [Phillimores]
Burials 1651-1730 1731-1812 1813-1880 [Kim Parker]
Bishops Transcripts
Baptisms 1731-1800 & 1802-1880
Monumental Inscriptions
A list of all the names occurring on Burial Monuments in the village
Protestation Returns
The 1641 Protestation Returns for the parish
Photographs
A collection of photographs of the village today as well as some historic photos.
Other Records
Will of Margaret Melmoth 1691 [Dawn Good]
History
History of Milton Abbey and formation of the village of Milton Abbas
[Michael Russell]
Abandoned Communities - Milton [Stephen Fisk] [External]
Maps
The 1891 Ordnance Survey maps of the parish can be seen at the old-maps site, just enter 'Milton Abbas' under place search.
For modern location maps visit:-
---
Visitors to Dorset OPC

Copyright (c) 2017 Dorset OPC Project